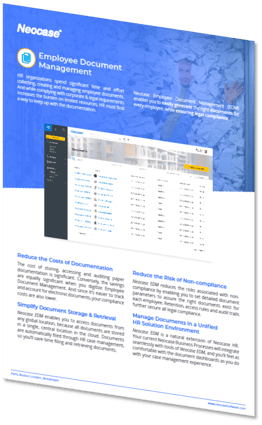 Electronic Document Management
Save time and improve compliance throughout the employee document life cycle
The high costs of document management are caused by time and effort required to create, collect, approve, store and retrieve documents. And the risk of non-compliance adds another layer of complexity.
Neocase Employee Document Management (EDM) simplifies document management through cloud storage and the following feature sets:
Document Collection & Paper to Digital Conversion*

Centralized Cloud Storage

Digital Document Generation

eSignatures & Approval Workflows

Secure & Easy Document Access

Compliance Management
Neocase EDM is designed to dramatically reduce costs associated with employee documents, while reducing your risk of non-compliance.
*Digital Conversion through a Neocase Partner